Railways form a large part of what happens in the Museum of Transport.
At the far end of the site we have the Railway Gallery, where non-working locomotives and interesting items of rolling stock, including Gresley's 'Hush hush', an LMS garratt, the Deltic prototype, Great Western broad gauge loco 'North Star', an Isle of Man railway Beyer Peacock, a Listowel & Ballybunion monorail locomotive and carriage, the experimential Benny Railplane and a Liverpool Overhad Railway driving car. The Gallery contains a vast collection of railway signs and artefacts, signals and other railway 'hardware', plus models of locomotives in the various display cases.
From the Railway Gallery, you can take a ride in a Great Western railcar* to the other end of the site, traveling along the dock front and over the Bascule bridge and the swing bridge. *(May be substituted)
At this end of the site, there are the two engine sheds, where the Museum's working locomotives live. The smaller shed is open for visitors to walk around, but the larger shed is restriced to guided tours only, as there are locomotives moving around in that area. This is where much of the locomotive restoration work takes place.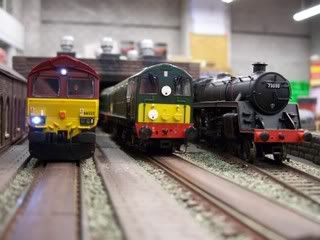 The Turntable connects the two sheds, and is also used to turn locos when need be. When its not being used for 'serious' turning, it is operated continuously for the benefit of visitors.